Training
Training Page has been updated with our new Curriculum (March 2018).
Overview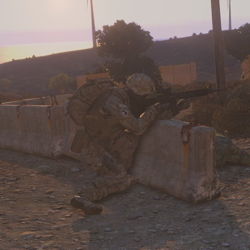 Training is key to the group's success in the field. With everyone on the same page, tactics can be enacted seamlessly and flawlessly. Training sessions, videos and exercises are all good ways to keep up with the tactics employed by Black Watch International.
Orientation
Before attending their first operation, all new Recruits will be assisted, by a Training Officer, in Black Watch's radio protocols and basic controls. This is also a great opportunity for a recruit to ask any questions they may have prior to playing.
Bootcamp
All Recruits attend a Bootcamp session before they can be promoted to Private. The Bootcamp is our form of basic training, where a Training Officer will ensure that Recruits have learned the basic skills and tactics required to be a fully fledged member of Black Watch International. During this session, Recruits will learn about formations, convoy procedures, the ACE advanced medical system and radio protocols. Black Watch have a suite of basic training videos to prepare recruits for their bootcamp, available here.
Advanced Training Curriculum
Black Watch International offers regular training sessions on advanced gameplay elements. While not mandatory, these sessions are an opportunity for members to gather and learn about a variety of topics. We encourage all members capable of attending the training sessions to take part. By achieving certification in these sessions members earn Training Badges which carry a points weight; once a member achieves a high enough points value, they are automatically promoted to Private First Class.
Please click on the listed advanced topics below to check availability and content:
|   | Topic | Description |
| --- | --- | --- |
| | Advanced Marksmanship | How to range and zero scopes for accurate marksmanship at extended distances. |
| | Armour School | A multi-stage course for learning how to operate armour assets from driving, gunning and commanding roles. |
| | Artillery School | A multi-stage course for operating indirect fire assets, including: performing fire mission calculations and Mortar and Artillery Training. |
| | Explosives | How to defuse and handle explosive devices in-game. |
| | Flight School | A multi-stage course for operating with air assets including: Forward Air Controller, Rotary and Fixed Wing Pilot Training. |
| | Land Navigation | How to navigate and identify locations in-game using your map and orienteering tools. |
| | Infantry Accuracy | How to correctly range and hit targets in-game using basic rifle sights, handheld anti-tank weaponry and 40mm grenade launchers. |
| | Infantry Tactics | How to perform various infantry tactics such as overwatching, travelling and urban structure clearance. |
| | Vehicle Identification | How to identify the various categories of vehicles used in Black Watch operations as well as common variants and the threats they pose. |
Videos
We produce training videos to match our training topics, available on our YouTube channel. Please check out the following playlist: