Flight School
Overview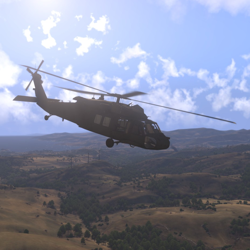 Piloting during an operation carries a large amount of responsibility and a great deal of pressure. With a dedicated flight school, Black Watch International aims to ensure that budding pilots are provided all the skills they need to take part in flight operations successfully. Pilots who successfully complete the flight school to a sufficient grade in the Rotary or Fixed-wing division are given access to pilot roles during operations.
Regularly Scheduled Sessions
Practical Flight School sessions for both Logistics and Close Air Support operations occur regularly. Those attending these sessions will cover a variety of topics, including: emergency landings, night flying, slingloading, radar warning systems, alternate insertion methods, threat identification, operation of weapon systems, carrier landings, and more. A full flight curriculum can be found in the Appendix.
Pilot Certification
Pilots are issued certifications based on a number of criteria with Rotary and Fixed-wing qualifications graded separately. The following table provides a general overview of the expectations at each level:
| Grade | Criteria | Qualifies For |
| --- | --- | --- |
| A | Quality pilot, capable of providing Close Air Support with patience and discipline | Can pilot Close Air Support aircraft in operation |
| B | Confident and consistent Logistics pilot, capable of dealing with a variety of situations | Can pilot Logistics aircraft in operation |
| C | Competent at flying and landing, and capable of dealing with emergency situations | Further training opportunities |